Ouray's historic Elks lodge opened in 1905 to rave reviews in the local press. Today, more than one hundred years after its dedication, it remains one of the social hubs of the community. Its stunning lodge room with its original 18-foot, pressed metal ceiling and the cozy club room's 1890's bar/back bar can really take you back in time for an elegant experience.
The lodge building is available for your event at reasonable rates. 2018 rates are:
Lodge room business meeting, daytime $100
Lodge room only, special event $275
Upstairs dining room only $150
Upstairs commercial kitchen only $100
Whole upstairs $500
Downstairs only (general rate) $150, without bowling alleys
Downstairs only (local Elks only) FREE, without bowling alleys
Park only $100
Entire building without park $600, without bowling alleys
Entire building with park $700, without bowling alleys
Facilities are suitable for groups to about 100 in size. Bartenders provided at $20/hour, additional expenses such as security (if required) not included. Karaoke services available starting at $100, depending on size and length of event. Sound system available for your music input for $50. Catering available is for some events. Projection screen and PA are available for PowerPoint presentations. All quoted rates are for a special event of approximately 4 hours duration, and are subject to change. Daytime business meetings include tables, chairs, coffee and water. Historic bowling alleys not rented to the public.
To inquire about availability, or to arrange a viewing of the premises, contact us at 970-325-4510 (answering machine, leave message) or email ourayelks492@gmail.com. Visit our website at www.ourayelks.org.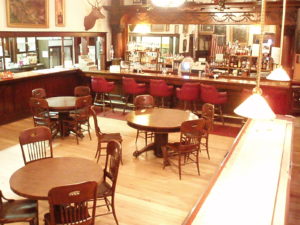 Our Historic Club Room (1st Floor)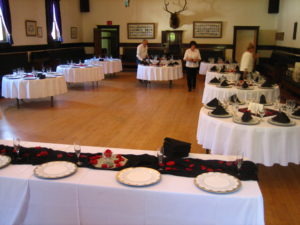 The Lodge room set-up for a wedding reception (2nd floor)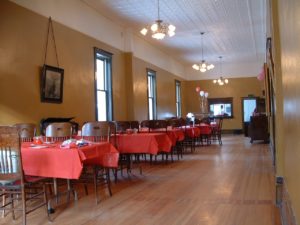 The separate dining room (2nd floor)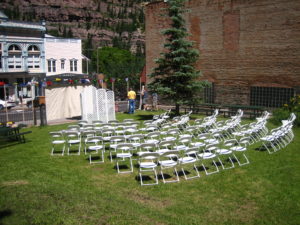 Our park